loads of movies are seen by members of my household - somebody has to help the creators of film! so we had been going back and forth about 'avatar', james cameron's newest film... with a budget of over $200 million, one thinks of his blockbuster 'titanic'... so why hasn't there been a big stir? or did i miss it? or ~ i have another theory, but that comes later...
'the secret to film is that it is an illusion.'
love, love, love fantasy and sci-fi... and i had heard about the incredible cgi in this movie... ok, that's great... but what about plot, characters? will i care? i can appreciate great visual beauty... but i want to feel... i want my heart to ride a rollercoaster... i want to pull for the underdog, i want to marvel at it all...
so i expect a lot... but i should, right, from a film with this kind of budget?
i had no idea that movie theaters were so crowded the day after christmas, i thought every one would be hanging at home, hungover from the activity... i wouldn't have gone anywhere, except that i had promised we would go... and it was pouring! my parents arrived at the first theater only to find it was sold out... so we headed to a different one and just got in on time...
we sat down, the movie started... when we arrived on pandora i was dumbstruck (ok, maybe i shouldn't say that, i don't talk in movies) i was awestruck...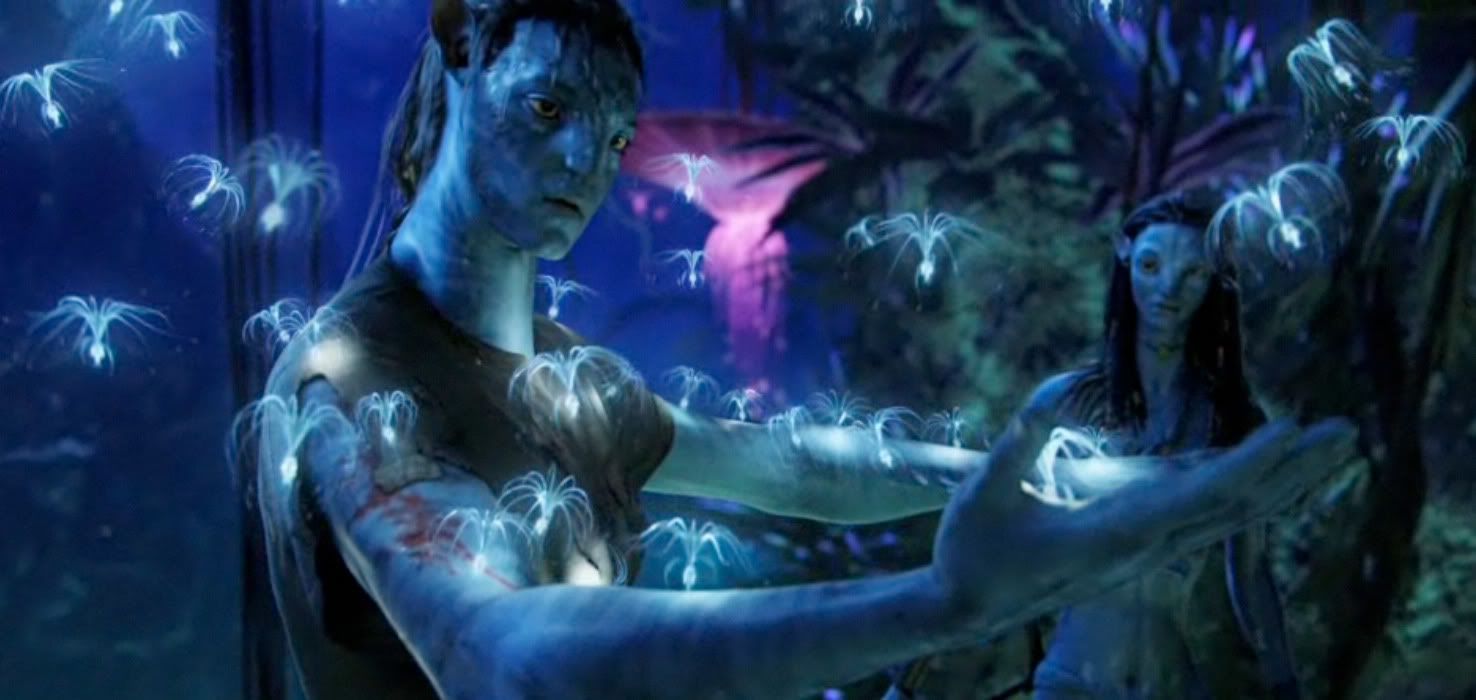 at its core, the story line is not new... but then history keeps repeating itself, so it is quite relevant... in a way, it is because of this that it is so moving... so sad...
when a bioluminescent forest scene came on, all i could think was how incredible it must have been for cameron... how 12 years ago when he wrote the story and dreamed, there was no way for him to create this world complete with a new language... and when it got figured out, how incredibly & utterly rewarding it must feel...
it is in 3D, but not the kind that is used for shock, you know when things come flying out at you... not the kind that makes you sick... rather it immerses you in his world... it is subtle and necessary...
later in the film i was thinking about how amazing it was that despite the visual grandeur, i wasn't oohing and aahing anymore about it, the story had me in its grip... so seamlessly did he meld acting, storytelling and scenery that it was balanced...
'the length of a film should be directly related
to the endurance of the human bladder.'
good point, oh master of suspense... it is long - 162 min... so don't buy a drink! you won't want to leave...
there are those who are criticizing many aspects of it, saying he copies storyline, but as i have pointed out - this is so relevant because the theme is universal and so of course it has been told before in different ways... people are pointing to movies it is like instead of the historical events that inspired those other movies... dig deeper, think bigger... that it is the way of a war-like species, a species that colonizes, that doesn't respect the ways of indigenous people... some take pokes at the spiritual aspect... ok, so now i am going to really stick my neck out and say that i felt at home there... i really and truly did...
but back to the first query - about why this isn't making such a stir... i think you will understand when you sit there... i think that you too will feel that you are seeing something completely different and groundbreaking... like when you saw the first 'star wars'... like when you read the harry potter books as they were being written, and understood that you were in on the ground level of something... that in a century, they would be considered children's classics and you got to read them in real time... i felt like this was the equivalent of seeing the first talkie or film in color... you know this is special... you know that things will change... but you also know that people sometimes aren't ready for it until others have paved the way...
as a mom, i took my kids - ages 11, 13 and 17... it is pg-13... blood is kept to a minimum... but there are battle scenes & violence... if your kids have seen 'transformers' or 'star wars', i think you might be ok with this... the epic battle was powerful... this movie is not all about beauty... but that makes it mean something... for neither is life...
'you should see your faces!'
~ trudy - the fighterpilot
i needed to sit through the credits (i wanted to actually) just to decompress and absorb... but it is an impressive group - skywalker sound, weta workshop, lucas films - brought in to create this world... i know i used a lot of superlatives in this post, so forgive me... but i really do feel this way... and if you go, and you are interested, do a search in your tv listings for an hbo: behind the scenes segment (i happen to have verizon, so it is in my search)... it will give you an even greater understanding... because when i got home, i wanted to know 'how' and 'why'...