as of late, my meandering time on blogger has been limited... but i was so happy to have come upon a post by nan of spirit rattles and nan emmett studio... her ceramic work is beautiful and i feel lucky that she is now sharing beads with us! and by the way, nan - you are killing me with those hands!
she shared a journal by david byrne - the talking heads - that i am so appreciative of...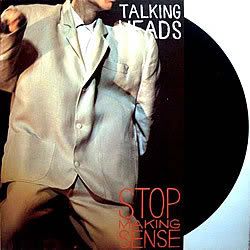 a teen when 'stop making sense' was released, i admired him... a modern day renaissance man, he explores the schism/chasm between art and craft... the ideology, the cultural influence... highly intelligent, incredibly well versed - he also discusses the education of those desiring to pursue their interest in the arts... there are questions that at times haunt me... 'what am i considered to be?' 'who decides?' 'does it matter?' should a label matter? of course not... as an avid student of art history, i find the term 'artist' and even 'fine artist' to be defined by those items found in museums... but is that accurate? all i can do is work from what i feel... anymore, anything else seems superficial to me... which can present its challenges under different circumstances... for to attempt to make some kind of living at this, one has to be able to produce things that will also sell and at different price ranges... it's like you have to separate yourself at times to achieve the two goals... or maybe realize that it is the two parts that make the whole... for to be a starving 'artist' as a mom of three seems rather unfair to the three who didn't choose that path...
the libra in me is babbling - trying to find balance & harmony... sorry!